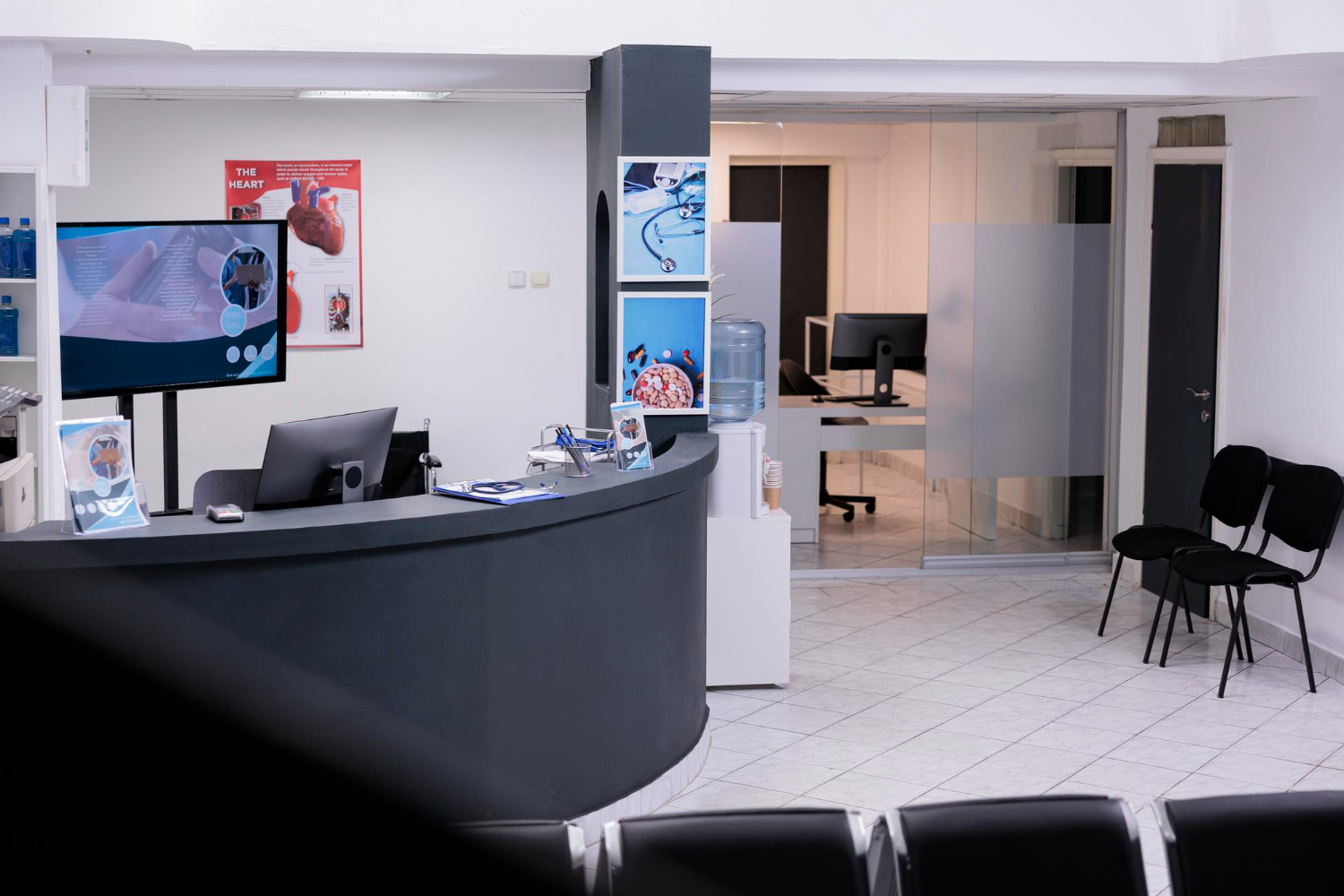 Dental waiting room TVs can share important messages and promotions. The bright screens and multimedia capabilities capture attention and make information more memorable than paper posters and handouts.
Dental waiting room TVs can significantly enhance the patient experience by providing comfort, education, entertainment, and engagement. By strategically using these screens, dental practices can create a more welcoming and informative environment that ultimately leads to higher patient satisfaction and improved oral health outcomes. 
Patient Call
Patients may have to wait during their appointments while the dentist and clinical staff prepare them for treatment. Many practices still rely on reception staff or themselves to go and collect patients from the waiting room, which can be time-consuming and disruptive. Patient call systems allow dentists and clinical staff to instantly call patients via their dental waiting room TV, eliminating the need to go back and forth between rooms.
In a world of information overload, keeping your dental practice's waiting room engaging and interesting for your patients is important. Reading material, such as magazines (be sure to change them regularly so they're not three years old) or puzzles, is a great way to entertain your patients and take their minds off their appointments.
Educating your clients on how to improve their oral care can also help ease nervousness, as well as provide an opportunity to increase client loyalty and referrals. 
Entertainment
Often, dental practices use posters and leaflets in their waiting room to promote themselves. However, these can quickly become outdated and look messy in an already cluttered environment with patients.
Instead, using a digital display system to share your message professionally is much more effective and creates a more welcoming atmosphere for your patients. Plus, you can add visuals that inform and educate to show your practice is up to date and a great place to visit.
With a private label TV, you can also offer more customization than a live cable pass-thru, including the ability to include a frame that features your branding and messaging around content. You can upload playlists and make changes at any time from your dashboard.
Education
Dental waiting rooms are the perfect place to educate patients on the full range of your services. They are a captive audience in a setting free of distractions and when the subject matter is top of mind. 
Digital signage can also reduce the workload of your reception team by allowing clinical staff to call patient appointments directly from the waiting room screens rather than having to leave their desks. This can reduce the number of times customers are interrupted by a front desk call and helps to keep the practice running smoothly.
Creating a playlist with seasonal and event videos keeps your content fresh and entertaining. This engages and entertains patients while they wait and can help reduce the anxiety associated with a visit to the dentist. You can also add videos, ensuring the content is relevant to your practice and customers.
Convenience
While in the room with a patient, digital screens are an excellent tool to keep them engaged and informed. They can provide a brief overview of your practice, the types of treatments you offer, and how those procedures work. This helps to reduce anxiety and gives patients a more complete understanding of the services they are receiving.
Rather than the basic cable option, dental waiting room TVs allow your practice to curate and schedule content playlists that best reflect your clinic and brand. Instead of watching HGTV or being distracted by food or nostalgic music videos, your patients will be more receptive to educational and entertaining videos about oral health and the range of treatments available at your clinic.
Accessibility
Providing free, reliable WiFi is also essential for improving the patient experience. Patients can use the WiFi to check email, browse social media, and watch TV or films on their own devices. This will ensure they are more comfortable, distracted, and occupied while waiting.
Digital signage can improve client communication by clearly displaying practice information, changes in appointment times, and emergency services. The scheduling potential of digital signage also means that practices can prepare content in advance and display it promptly, rather than relying on print posters, which can become obsolete quickly.
Dental waiting room TVs can also reduce client anxiety by informing them about their appointments and dental care. Educative and entertaining content can ease nerves by explaining the process of an appointment, humanizing staff through profile videos, and demonstrating the benefits of dental hygiene through customer testimonials or 'how to' video content. Similarly, entertaining content can distract and entertain clients, taking their minds off the upcoming appointment and easing their stress levels. It will also increase client retention as they are more likely to return to a practice offering various entertainment options.
Customized Content
Tailoring the waiting room TV content to the patient's age group and demographics can make the experience more relevant and engaging. Pediatric dentists, for example, can display child-friendly content to make young patients feel more comfortable.