Rachel Griffin Accurso, more popularly recognized as Miss Rachel, is an acclaimed American YouTuber, educator, and songwriter. Her unique blend of education and entertainment has earned her a notable presence in the digital world. The primary audience of her YouTube channel "Songs for Littles" includes infants and toddlers, with content predominantly focused on language development. This article brings to light the journey of Miss Rachel, her age, career trajectory, net worth, and much more.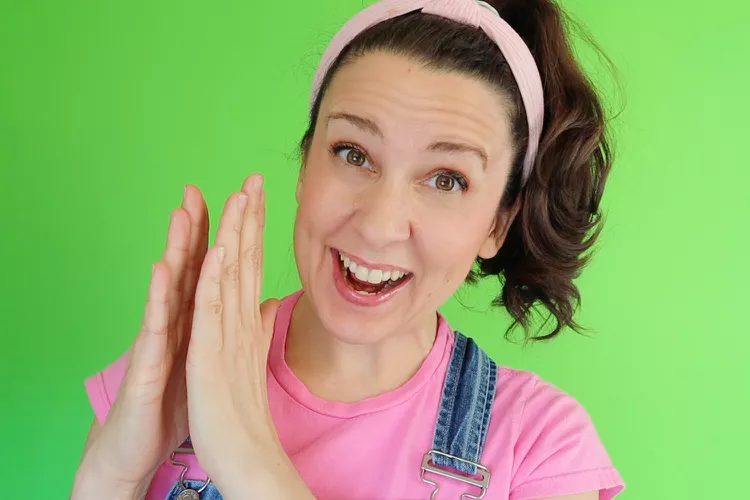 Miss Rachel Early Life and Education
Born on November 8, 1980, in the city of San Francisco, California, Miss Rachel, at the age of 42, has made a significant impact in the field of early childhood education. Growing up in Biddeford, Maine, and later relocating to Sanford, Maine, Rachel's life has been a journey of continuous learning and growth.
Her educational prowess is evident in her impressive academic credentials. She is an alumnus of the esteemed Sanford High School. Her passion for theatre led her to the University of Southern Maine, where she honed her acting skills. She later pursued a master's degree in music education from the prestigious New York University. Before stepping into the world of YouTube, Rachel worked as a music teacher in a public preschool in New York City. Currently, she is further augmenting her academic portfolio by pursuing a second master's degree in early childhood education.
The Birth of "Songs for Littles": The YouTube Journey
Miss Rachel initiated her YouTube voyage in 2019. The lack of media resources for her son, who experienced speech delay issues, led her and her husband, Broadway music director, and composer Aron Accurso, to create the YouTube channel under the name "Ms. Rachel".
The channel is home to "Songs for Littles", a children's music series that marries traditional children's songs, nursery rhymes, and original music for toddlers and infants. The primary objective of this series is to aid language development milestones. The inspiration behind this innovative approach was the techniques employed by her son's speech therapist.
The channel witnessed an exponential growth in popularity during the COVID-19 pandemic in 2020. As of 2023, the channel boasts over five million subscribers, a testament to the influence and reach of Miss Rachel's educational content.
The Star of "Songs for Littles": Miss Rachel's Signature Style
Miss Rachel is the star of "Songs for Littles". Her signature outfit, a pink shirt complemented with overalls and a headband, has become synonymous with the series. The show is a collaborative effort, with a diverse cast and crew contributing to its success.
Some of the key members include actress and teacher Keisha Gilles, diversity and inclusion consultant Alexa Smith, speech therapist Frida Matute, animator and editor Beth Jean, singer-songwriter Jules Hoffman, actress Natalie Kaye Clater, and Miss Rachel's husband Aron Accurso. Aron brings to life two puppet characters, Georgie and Herbie, and is the chief music composer for the series.
Miss Rachel on TikTok
Venturing beyond YouTube, Miss Rachel established a strong presence on TikTok. By March 2023, she had amassed over two and a half million followers. In February 2023, she took a brief hiatus from TikTok, citing mental health concerns. The break was speculated to be a response to backlash received from certain parents on the platform against her co-star Jules Hoffman's use of they/them pronouns. She returned to TikTok the same month, with her and "Songs for Littles" signing with Creative Artists Agency.
Miss Rachel's Net Worth
Miss Rachel has carved a successful career for herself in the digital space. Her innovative content and the popularity of her YouTube channel have significantly contributed to her financial success. As of 2023, Miss Rachel's net worth is estimated to be around $10 million. Her primary source of income stems from her YouTube channel, with revenues generated from advertising, sponsorships, and music sales. Additionally, she also profits from the sale of merchandise on her website.
Family Ties: Miss Rachel's Personal Life
Miss Rachel is happily married to her husband, Aron Accurso. Their bond extends beyond their personal lives, with Aron playing a significant role in the success of "Songs for Littles". They are proud parents of a son, who has been a significant inspiration behind Miss Rachel's YouTube channel. Their journey as parents and their dedication to their son's developmental needs have significantly shaped the content and direction of "Songs for Littles".
Reaping Accolades: Awards and Achievements
Miss Rachel's contributions to early childhood education and music have not gone unnoticed. She has been featured in prominent media outlets such as The Washington Post and CBS National News. Her innovative approach to combining music and education has won her several awards, further cementing her reputation as a trailblazer in her field.
The Road Ahead: Miss Rachel's Future Plans
Despite her impressive achievements, Miss Rachel shows no signs of slowing down. She continues to create educational content for her YouTube channel and is actively pursuing her second master's degree in early childhood education. Her dedication to her craft and her unwavering commitment to promoting early childhood education promise an exciting and impactful future.
Miss Rachel's journey is a true testament to the power of innovation and dedication. Her unique approach to early childhood education has not only garnered her millions of followers but has also made a significant impact in the lives of countless children and their families. As she continues to grow and evolve, one can only anticipate what this dynamic educator and songwriter will accomplish next.