Finding the ideal CRM program for your company might be difficult. You may ask yourself which is the cheapest, which has the most features, or perhaps even which is the simplest. It's difficult to deny how capable and user-friendly Workforce Software Monday and CRM are. Not to mention all of the new features and regular updates they keep making.
We have developed a list of Monday.com features to guide you in choosing your company's best course of action. In the days, months, and years to come, this post will go through features that will help you close more deals and advance your business.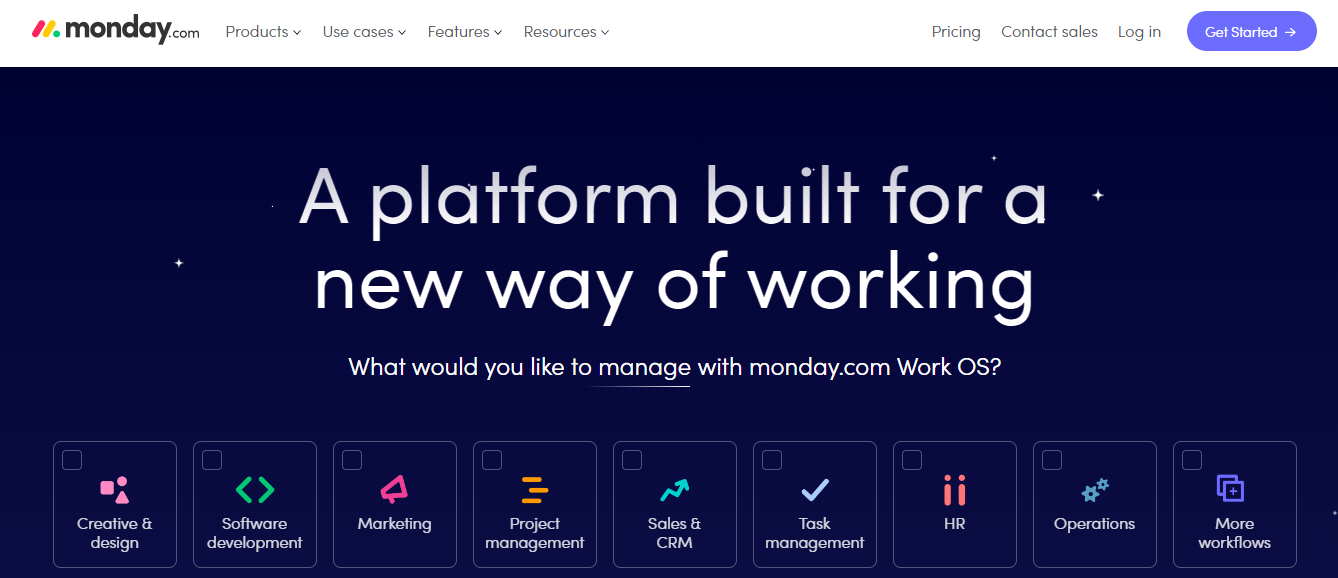 What Characteristics To Look For in a Great CRM?
Let's take a deeper dive into what exactly you should be looking for when it comes to a great CRM that will help your business.
There is no CRM that is universally applicable. Each business has different needs, so it must be an option for them to be able to tailor their dashboards and workflows in any way they see fit.
Integrating third parties
Any top-notch CRM program will let you link up with the outside applications you frequently utilize for your organization. After all, CRM software should simplify your life rather than make it more difficult.
You must be able to automate time-consuming tasks like assigning leads to sales staff, reminding recipients of forthcoming appointments and events, and receiving notifications when a lead views your emails if you want to close deals.
What You'll Find On The Monday.com Dashboard
Here are the basics of what you will find on the dashboard:
Sales Forecast
If you are reading this to determine whether Monday.com is a suitable option to expand your business, you are well aware of how crucial sales forecasting is.
Reviewing historical sales data and developing a clear future vision is incredibly simple for any business because of Monday's intuitive and user-friendly platform. The pivot boards are one of Monday's most important elements for sales forecasting. They enable you to get as granular as you require and to slice up your info anyhow you see suitable.
Teams
You are given two primary groupings on your dashboard via the software Monday. The most sensible groups for expanding your firm are those with a full sales pipeline and won transactions.
Dashboards & Project Data Visualizations
You can select the most crucial information for your company and team using Monday.com's workforce management software. Your data will be presented to you more visually, making it simpler for you to comprehend and manage. You can alter how you display the data to suit your team's requirements.
Kanban Boards
The group view and the Kanban view are both movable. A visual method called a Kanban board increases productivity and makes job management much easier. It has been demonstrated that using Kanban boards in your company will enhance workflows and communication. enabling your team to complete tasks more quickly and under less pressure.
Benefits of Using Workforce Software Monday as a CRM
Let's take a look at what the benefits are of using this software for your business:
Client Communication
Say goodbye to manually copy and pasting email addresses into your Gmail or Microsoft account from spreadsheets.
With just one click, workforce software Monday makes communicating with your prospects and customers simple. You can even make personalized email templates to save time when sending a welcome or thank you email.
The Monday CRM not only automatically logs all emails sent, but it also enables you to keep track of any significant customer communications. Use Monday.com to make your company more transparent and provide your staff access to the information.
Automation of Tedious Activities
Do you want to be able to send an email to a salesperson the moment your customer opens it? When your sales cycle shifts to qualifying, would you want to ensure sure someone is assigned to them as soon as possible? Do you want to be kept up to date on every upcoming event so you won't miss a beat? Monday.com has accomplished all of that and more. By automating some time-consuming sales activities, you may be able to reduce part of your effort and concentrate on growing your business.
Saving More Deals
No matter how long you've been in business or just starting, it's critical to make sure no leads slip through the gaps. You can get leads from anywhere online with the Monday CRM. Just enter their information into your CRM, and you can qualify them all in one location.
Plan Options
Individual Plan
Monday's free individual plan is incredibly generous straight away, whether you are a solopreneur or a team of two. To better organize your business and procedures, you can establish up to three boards and an unlimited number of documents.
Basic Plan: $8 per month per seat
The fundamental plan includes everything you need to have better workflows if your team or business is expanding. You can build a dashboard based on a single board to track performances and progress in one place. Additionally, your team can post screenshots, videos, and other files with up to 5GB of file storage.
Standard Plan: $10 per month per seat
The most popular plan on Monday.com's workforce software, and for good reason. You can even advance your dashboards by importing data from as many as five different boards. allowing you more freedom in how you choose to monitor your team's work.
Pro Plan: $16 per month per seat
The pro plan was created for large teams and companies to manage more intricate procedures. Employment software Everything was upgraded on Monday, but here are just a few of my favorites:
Individual formula column
25,000 automation tasks are tracked in time each month.
Monthly integration operations of up to 25,000
Conclusions
This is an exceptional piece of software for businesses large and small. The multitude of features, the training that Monday offers and the way in which it seamlessly integrates 3rd party apps can all supercharge your business. Your business and its employees can access monday.com via phone and tablet apps as well as via laptops and desktops. This is the most superior CRM on the market for our money and we would certainly recommend it for your business.